Complementing its rich legacy of antiquated shops and remains of European empires, Malacca also offers an enticing attraction of Nyonya cuisine as well as an overabundance of dining venues that provide local and international fare. From an understated Nyonya eatery nestling amongst old shops in Jonker Street to a stylish restaurant serving tantalizing western treat, there is a wide range of eateries to head to after a long day of exploring Malacca's many attractions and shopping for handmade souvenirs. Listed below are top 10 restaurants in Malacca, most have been drawing crowds from different walks of life for many years, and even generations.
1. Capitol Satay Celup
Image credit:img.photobucket.com
A well-frequented satay celup restaurant and also one of the affordable eateries in Malacca City, Capitol is always packed with famished diners so make sure to head there early to prevent a long queue. It offers more than four and a half rows of food, consisting over 80 kinds of skewered seafood and vegetables, like chicken, cockles, abalones, fish balls, cuttlefish, and mushrooms, to vegetables, quail's eggs, shrimps, and fried bean curds.
2. Kedai Kopi Chung Wah
Image credit:3.bp.blogspot.com
Malacca is known as a food haven, as people gather from all over Malaysia to the UNESCO World Heritage city for the best, only-in-Malacca dishes. One of the Malacca's most wanted food is chicken rice balls.At Kedai Kopi Chung Wah, a coffee shop specializing in this delight, it is serious business. With lines of anxious diners outside the property throughout its opening hours, Chung Wah is immensely famous, and for all the right reasons. Conveniently located in Jonker Walk, Kedai Kopi Chung Wah place right opposite the giant San Shu Gong outlet, at the end of the row of shop lots at Jalan Hang Jebat.Internal wise, the eatery embraces the Malaysian-style coffee shop decor – wooden chairs and marble-top tables occupy the floor space, with hawker stalls being used as workstations where food is provided.
3. Nancy's Kitchen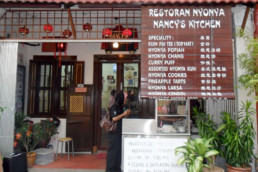 Image credit:static.asiawebdirect.com
For many years, Nancy's Kitchen in Jonker Street has long been the top place to go for delicious Nyonya cuisine. With a homely ambiance, Nancy's Kitchen invokes memories of stepping into an amiable neighbor's dining room for some tasty food, and dishes come piping hot from the kitchen. Do note that Nancy's Kitchen is not a Halal eatery, so Muslims might want to head to other Nyonya restaurants.
4. Hard  Rock Cafe Malacca
Image credit:twotravelaholics.com
For years, Hard Rock Cafe has been the brand name that brings together amazing live music and great American favorites such as cheeseburgers and fries. Continuing the custom is Hard Rock Cafe Malacca, and by the looks of it, this cafe is on its way of turning into one of the top spots to hit in this once-sleepy UNESCO World Heritage City. Situated idyllically by the Malacca River, the cafe often sees a line of anxious diners and music enthusiasts queuing by the entrance, so we counsel you to arrive before 21:00 to if you're planning to catch the live band while enjoying your dinner.
5. Geographer Cafe
Image credit:static.asiawebdirect.com
Geographer Café is an award-winning, corner lot pub with lots of style for a Malaccan nightlife joint. Plenty of greenery, a fashionable bar that dominates the interior, high tables and chairs and a clientele of both backpackers and locals, makes this place super famous.
6. Malacca City Restaurant
Image credit:media-cdn.tripadvisor.com
The attractive of good dining is as much a part of Malacca's appeal as its narrow roads, antiquated shops and the remnants of European empires. In the last few years alone an overabundance of new dining venues has sprung up around Malacca. Scores of these restaurants are in the local area of Malacca's historic buildings, and some are even located within them. Presenting local fare and international gastronomy, most of these cafés, bistros and restaurants have simply lavish food. Most importantly you can't think of Malacca without thinking of Nyonya cuisine – chiefly pervasive throughout the city center. Nyonya fare is a unique mixture of Chinese, Malay and sundry cooking styles that have evolved from the social dynamics of the different cultures. While in Malacca, don't miss out on the chance to try out the ayam pong teh at Makko, the mozzarella chicken at Amigo or the satay celup at Restoran Ban Lee Siang.
7. Limau-Limau Cafe
Image credit:www.rebeccasaw.com
Limau-Limau Café is a shocking find in Malacca. Though the place has received lavish praise reviews it has managed to fly under the radar, with most people stumbling upon the place on their Jonker Walk explorations. A kooky bistro with a certain upmarket ambiance, it is set opposite Kampung Kling Mosque. The breezy bistro has blindingly-bright acid green walls. Soft jazz music and ice cold pints make it a chosen spot to while the afternoon away: in fact, a lot of its customers seem unwilling to leave when their food and drinks are finished.
8. The Baboon House
Image credit:3.bp.blogspot.com
The Baboon House is an old-fashioned cafe in Malacca that impresses thanks to its genuine gourmet burgers, freshly ground coffee and laidback atmosphere. With a tranquil open-air courtyard, roomy seating arrangements and eclectic furnishings, this place certainly aren't short on personality. Situated in Jalan Tun Tan Cheng Lock, the calm and cozy environment of The Baboon House is in pleasant contrast to the busy lanes of Jonker Street outside.
9. Amigo Steak & Grill
Image credit:www.tasteiest.com
Serving tantalizing Western and Japanese cuisine, Amigo Steak & Grill is one of the most famous restaurants in Malacca City. Do not be put off by the rather contrasting food selection – Amigo Steak & Grill is well-frequented for its affordable and sizeable portions.
10. Ban Lee Siang Restaurant
Image credit:www.gogomelaka.com
One of the colonist satay celup restaurants in Malacca, Restoran Ban Lee Siang was established in 1989 and today, it is almost familiar for visitors to savor a taste of its skewers dipped in tasty satay sauce. A specialty native to Malacca, satay celup is another must-try dish where diners dip skewered raw meat, tofu, prawns and vegetables into a communal pot of thick and nutty boiling satay sauce and cook it to their liking.